Bob's Travels
Here you'll find some descriptions of birding trips, with references to field guides, site guides, restaurants places to stay, along with some personal comments on what we saw, where we went, and who we met. Also, there are usually a few photographs or links to a photo site. Hopefully it's useful to others for planning their own birding trips.
2007 Trips
Australia — October
A fantastic five-week trip arranged by Dr. Tonia Cochran of Inala Nature Tours. We joined a group of 5 in Tasmania for a week, flew to Darwin and Kakadu with our own guide for another week, spent some time at Cassowary House near Kuranda, stopped in Cairns, joined a group of 4 to tour the York Peninsula, and stopped at Chambers Rainforest Lodge before heading to Sydney, friends and fine wine. 115 new birds, and lots of good photographs.
Tasmania Photo Gallery Tasmania Trip Report
Darwin Photo Gallery Darwin Trip Report
Cape York Photo Gallery Cape York Trip Report
Atlantic Canada — July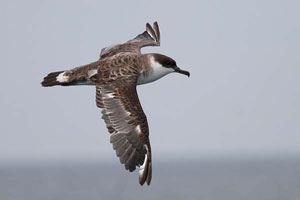 Greater Shearwater
A trip to Nova Scotia and New Brunswick, partly to eat lobster, and partly to visit some good friends, Jerry and Theresa. But we found a few new birds, like this Greater Shearwater, and enjoyed whales and lots of nice people. July is a good time to go north!
View photo gallery. Read trip report
Kauai, Hawaii — March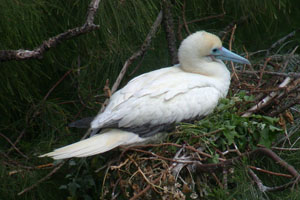 Red-footed Booby
We flew to Kauai, an island we'd never visited. Before the trip, I made arrangements with two local birders to show us some of the sights. We went to Princeville where Laysan Albatross were nesting, and to Kilauea Lighthouse to see Red-footed Boobies. There were a few native landbirds at Alakai Swamp, and Pueo (Short-eared Owl) on the way back from the mountain.
View photo gallery
Platte River, Nebraska — March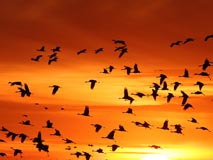 Sandhill Cranes
The trip started in Omaha, NB and was organized by Gary Husk of Horizon-Tours. We focused on the spectacle of about 80,000 Sandhill Cranes which use the Platte as a feeding ground during migration. The local Audubon Society near Kearney has a blind that is right on the river, and both early morning and dusk viewing was spectacular. Greater Prairie Chickens and Sharp-tailed Grouse were also seen during and after the trip, respectively.
View photo gallery