Tasmania, Australia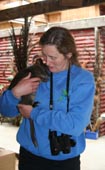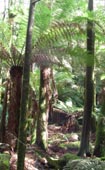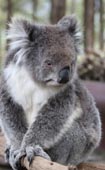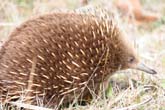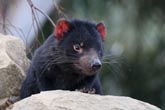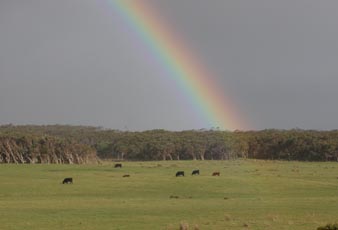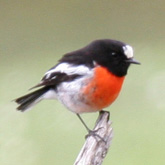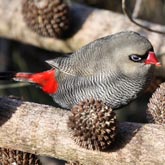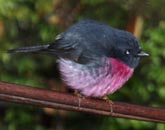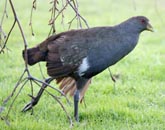 September 28 - October 5, 2007
Our Route, Planning
I was interested in seeing the remote (for us) island of Tasmania, as well as the endemic species of birds on the island. Several folks directed us to Inala Nature Tours, run by Tonia Cochran, and located on Bruny Island, off the SE Tasman coast. It was an excellent decision - Tonia planned our entire Tassie/Aussie trip for us.
Highlights
The Hobart weather was "unsettled" when we arrived - howling wind and driving rain! But weather changes quickly here, and by the time Tonia picked us up, and we'd met three other folks taking the same birding tour, it had calmed down. We had changeable weather, sometimes cold, for the whole week. Inala is wonderful, with big trees, many birds and a pet Pademelon. A night trip yielded Little Penguins near burrows, and strange creatures like Eastern Quoll, Long-nosed Potaroo and (earlier in the day) Short-beaked Echidna. A boat trip into the Great Southern Ocean showed off Southern Fur Seals and Shy Albatross. Food was excellent, focused on seafood and lamb.
Tonia took us on a 5-day exploration of Tasmania, traveling up the center via Mount Field NP, the north coast town of Penguin, and then west to Arthur River, where we saw Tasmanian Devils. We flew out of Launceston to Melbourne, and then to Darwin.
During our trip, we saw all 12 Tassie endemics and many unique Tassie races of Australian birds. Our birdlist included 99 species, 27 of them new to me.
References
"Birds of Australia," Simpson and Day, 6th Edition, Princeton Field Guides 1999. There is now a 7th Edition
"The Complete Field Guide to Butterflies of Australia," Michael F Braby, CSIRO Publishing 2007
"Birding Australia A Directory for Birders, Intl. Ed." Lloyd Nielsen, Lloyd Nielsen Publ, 2007
Places to stay
Hobart -- Old Woolstore, 1 Macquarie St, Hobart. Near the harbor. Convenient, comfortable.
Bruny Island -- Inala, 320 Cloudy Bay Road, Bruny Island, Tasmania 7150. Wonderful
Fentonbury -- Hamlet Downs Country Accomodation, 50 Gully Rd, Fentonbury, Tasmania 7140. Modern, nice
Hawley Beach -- Hawley House, Hawley Beach, Tasmania. Old large home-style accomodations
Arthur River -- Arthur River Holiday Units, 4 Gardiner St, Arthur River, Tasmania 7330. Motel