Bob's Travels
Here you'll find some descriptions of birding trips, with references to field guides, site guides, restaurants places to stay, along with some personal comments on what we saw, where we went, and who we met. Also, there are usually a few photographs or links to a photo site. Hopefully it's useful to others for planning their own birding trips.
2006 Trips
South Africa — October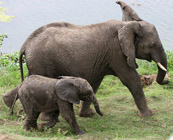 This trip was planned by Rob Mountain of Ntaba Tours and John Robinson of On My Mountain Tours. We took a pre-trip to the Limpopo River area, and then met the main tour near Johannesburg, including our excellent local guide, David Nkosi. We went to Kruger NP, Mkhuze, Hluhluwe, Umhlanga and Capetown. The birding and animals were both spectacular.
View photo gallery.