Darwin and Kakadu, Australia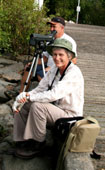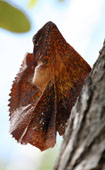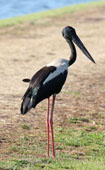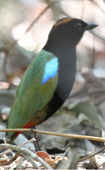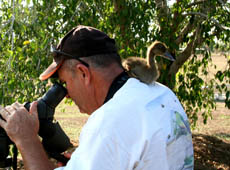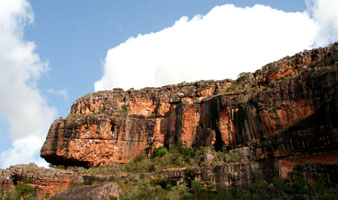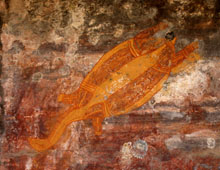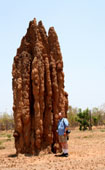 October 5-12, 2007
Our Route, Planning
Tonia arranged a local birding guide for the two of us -- Darryel Binns (known to locals as "Biggles"), one of the top Aussie birders, with over 700 Aussie species notched on his spotting scope. Sheryl Keates, another excellent local birder, joined us during our time in Darwin. Darryel acted as guide and driver for a circle tour from Darwin through Kakadu National Park and Katherine back to Darwin, over 5 days. It was warm (hot) and humid.
Highlights
Darwin offers the birder a great deal of variety, from Pied Imperial Pigeon, Bar-shouldered and Peaceful Doves and Orange-footed Scrubfowl in the parks; Mangrove Robin, Chestnut Rail and Red-headed Honeyeater in the mangroves; to Rainbow Pitta (Howard Springs), Rose-crowned Fruit Dove and Green-backed Gerygone in the monsoon forests. Darryel and Sheryl found them all! The pitta was especially exciting for me --the first member of its family I'd managed to see.
Sewage ponds were full of ducks and shorebirds, some new for us, and Knuckey Lagoon, Buffalo Creek and Sunset Park all offered a variety of water birds. It was hard to leave!
But Kakadu is an almost mythical place, and we wanted to see it. En route we stopped at Fogg Dam (Broad-billed Flycatcher) and near and at Mary River excavations (Masked, Long-tailed, Double-barred and Gouldian! Finches) before arriving at the Aurora Kakadu Lodge in South Alligator. At Kakadu, we visited Ubirr for rock paintings; Nourlangie for Sandstone Shrike-thrush and Banded Fruit Dove; Yellow Waters for a somewhat disappointing evening cruise; and Jabiru for Partridge Pigeon.
Our final stop was Katherine (Hooded Parrot, Apostlebird), a small, hot town with a nice waterpark full of dragonflies. For the Darwin/Kakadu trip, we saw 189 species, and 49 "lifers."
References
See Tasmania for Australian reference guides
Places to stay
Darwin -- Mirambeena Resort, 64 Cavenagh Street, Darwin 0801. Swimming pools, laundry, restaurant - good
South Alligator -- Aurora Kakadu, South Alligator, NT 0886
Cooinda -- Gagudju Lodge, Kakadu Highway, Jim Jim, NT 0866. Cinder Block cabins with kitchenette
Katherine -- Knotts Crossing, Giles and Cameron Streets, Katherine, NT 0851