Mazatlan, Durango Highway, San Blas - Mexico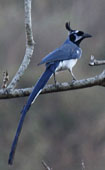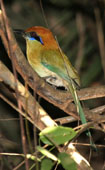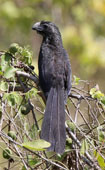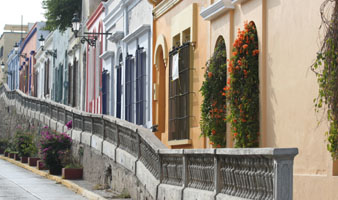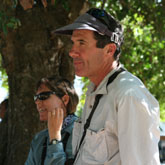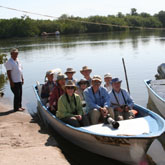 February 25 - March 6, 2008
Our Route, Planning
This was a Golden Gate Audubon trip, arranged with Mark Pretti Nature Tours. We spent a couple of days in Mazatlan, Sinaloa getting accustomed to the area, and then Mark picked us up. We went up the Durango Highway, staying in the small town of Copala, and then drove to San Blas, touring around the area. We were a group of 9, plus Mark and his wife Karen.
Highlights
Hanno and I had made this trip 27 years ago, early in our birding career, and we thought it would be interesting to see if we recognized anything! We stayed in the old section of Mazatlan, ate at restaurants on the old town square, and watched the pelicans and tropicbirds from our window.
The "real" trip started when we loaded into Mark's 12-passenger white van and went up the Durango Highway to Copala. Shortly after arrival at Hotel Daniel (margaritas recommended) we added Black-vented Oriole and Black-throated Magpie-Jay to our life list. Weather was very pleasant, not too hot, and birding around the town was easy going.
One of the best birding areas was a walk to Rancho Liebre Barranca, near km 200 on the Durango Highway. Here we had Tufted Jay, Red Warbler, Pine Flycatcher and Mountain Trogon. It's an easy walk on a trail NW from the road.
San Blas is still a relatively small quiet town. We went to Singayta Road (White-throated Flycatcher), La Bahada (Black Hawk-Eagle) and Cerro de San Juan (Mexican Woodnymph), as well as the croc farm road in San Blas; and we took two not-to-miss boat trips, one to La Tovara and another on the San Cristobal River. Birdlist
References
"Finding the Birds in Western Mexico" by Peter Alden, University of Arizona Press (1969). Out of print, but still useful.
"A Guide to the Birds of Mexico and N. Central America" by Howell and Webb. Big and heavy, but excellent.
Places to stay, or to eat
Hotel la Siesta, Olas Altas Blvd #11, Mazatlan. Phone (669) 981-2640.
Hotel Daniel, Copala - Banana-Coconut Pie! Excellent birding just down the road.
Hotel Garza Canela, San Blas - comfortable and very friendly staff, family run and birder aware (early breakfast).
San Blas - La Familia (shrimp dishes are excellent). MacDonald's (not the chain), our old standby, has lost its charm.