A Small thank-you would help a lot!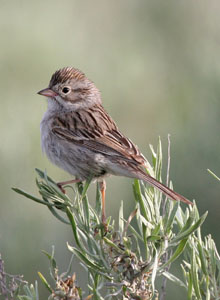 Brewer's Sparrow
The Feather River Land Trust and Plumas Audubon Society are working to improve access to this site, with a mile-long birding trail and observation platform. FRLT is the organization that provides the portable toilet that has been a life-saver on many GGA trips to this area, so a bit of appreciation for their efforts seems in order! They have received a California Audubon grant for half the cost of the project, so need to raise a bit more money.
If you would like to make a donation in support of this project, which will be a great benefit to Audubon members who visit Sierra Valley for years to come, please send a check to the Feather River Land Trust at P.O. Box 1826 Quincy, CA 95971. Checks may be written to Feather River Land Trust, and you may specify Sierra Valley Birding Project in the memo. If you have questions regarding the project please contact FRLT at (530)283-5758.
Sierra Valley Protection
In 2003, the Feather River Land Trust purchased the 575-acre Maddalena Ranch. The property is on the valley floor, and contains wetland areas, sagebrush scrub, and some grassland. The varied habitats host a tremendous diversity of birds; 115 bird species have been observed to date. The property is open for appropriate public use, and is leased for sustainable cattle grazing. We have often visited this site to see Sage Thrashers and Brewer's Sparrows. Plumas Audubon and FRLT worked together to install burrowing owl nest boxes, and wetlands are protected with solar electric fencing; these are currently the only improvements that enhance habitat or education.