South Africa - Cape Town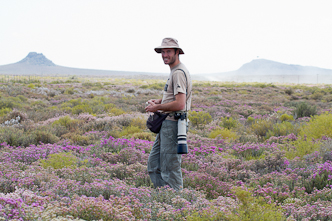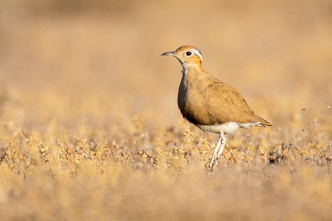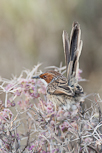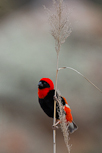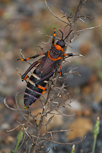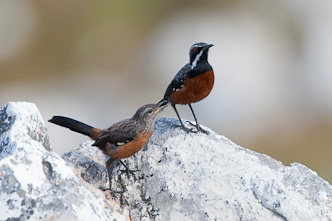 Link to Flickr images for all of
Southern Africa
Oct 12 - Oct 17, 2011
Our Route, Planning
My Madagascar trip was to be two weeks long, and the flight is very long and goes through Johannesburg, SA. Cape Town is not far from there, so I contacted Rockjumper Tours new photographic company, Oryx, to plan photographing the elusive Rockjumper, a species I'd missed last time. In addition, I wanted to visit the Karoo, a desert area north of Cape Town, which has a number of unique species. My guide was Keith Valentine, a Cape Town resident.
Highlights
This was primarily a photography tour. I've recently been trying to build my portfolio of photographs of members of all the bird families in the world, hence the Rockjumper target - there are only two members of this family, both found in South Africa. There are other African families I've seen but not photographed well, and anything along that line would be gravy. We got a lot of gravy. Our first stop was Strandfontein, a sewage treatment plant(!) where Greater Flamingos showed nicely, and we survived getting stuck in deep sand.
Stops at West Coast National Park added Ostrich images, as well as a delightful Black Korhaan, a bustard species. We stayed a couple of nights in Ceres, which is the gateway to the Karoo. This desert area extends all the way to Namibia, the first part full of flowering plants, the more northerly part desolate gravel. We drove north for over 100 miles, with best birds being a spectacular Burchell's Courser (adult and immature), Rufous-eared Warbler (a Cisticola, a new photographed family), , and a very nice Karoo Eremomela. Red Bishops and Locusts really stood out!
Other places we visited included Guido Pass, Paarl Mtn Reserve, Kirstenbosch and Harold Porter Botanical Gardens, Stony Point (penguins) and Rooiels, for the target Cape Rockjumper, which as you can see, we nailed.
South Africa is easy travel, with good roads, food and wine; Rockjumper has wonderful guides, and the photography is easy with good light and sightlines.
References
"The Birds of Southern Africa" by Sinclair, Hockey and Tarboton, Princeton Field Guides
Places to stay and visit, Links
We stayed at comfortable Guest Houses in Ceres and Noordhoek
Afton Grove Guest House, Noordhoek
Ceres Guest House, Ceres
Rockjumper / Oryx Nature Tours
Link to images of South African Birds