Contra Costa County Big Year Participants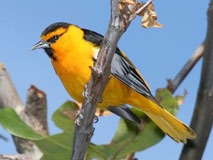 Bullock's Oriole
The following table shows the folks who are trying to establish a new record for the number of species of birds seen in Contra Costa County during one year. If you'd like to be listed, along with your year's totals for the county, contact Denise Wight.
Some Unusual Sightings
Here are some of the unusual sightings in Contra Costa County so far this year: Harlequin Duck, Solitary Sandpiper, Sharp-tailed Sandpiper, Black Skimmer, Lesser Nighthawk, Tropical Kingbird, Purple Martin, Dusky Warbler, Blackpoll Warbler, Connecticut Warbler, Summer Tanager, Clay-colored Sparrow and Harris's Sparrow!


Navigation
Want to see a list of birds seen in the county in 2008? Click the button!

If you see an unusual bird, no fair keeping it a secret. Post your sightings on EBB, or it won't count. If you're not an EBB member, learn how by clicking the button!

Participants / Month
Jan
Feb
Mar
Apr
May
Jun
Jul
Aug
Sep
Oct
Nov
Dec
County
183
192
205
231
235
239
246
251
253
261
265
268
Denise Wight
178
184
191
217
220
225
231
236
239
240
242
247
Bob Dunn
121
150
172
194
210
210
210
220
220
224
230
232
Jeff Hoppes
129
148
158
181
188
188
188
192
196
200
207
213
Nel Benningshof;
Nick Despota
106
139
157
169
173
181
186
186
190
190
195
200
Bob Lewis
118
123
135
152
152
152
163
168
174
185
198
200
Hugh Harvey
79
114
149
164
165
166
167
183
183
Ted Robertson
111
119
129
150
179