Alameda County Big Year Participants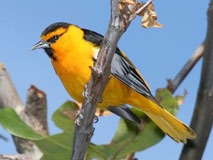 Bullock's Oriole
The following table shows the folks who are trying to establish a new record for the number of species of birds seen in Alameda County during one year. If you'd like to be listed, along with your year's totals for the county, contact Bob Power.
Some Unusual Sightings
Here are some of the unusual species seen in Alameda county so far this year: Tufted Duck, Ashy Storm-Petrel, Least Bittern, Yellow Rail, Sharp-tailed Sandpiper, Parasitic Jaeger, Franklin's Gull, Rhinoceros Auklet, Pileated Woodpecker, Scissor-tailed Flycatcher, Mountain Bluebird, Gray Catbird, Sage Thrasher, Virginia's Warbler, Black & White Warbler and Nelson's Sharp-tailed Sparrow!


Navigation
Want to see a list of birds seen in the county in 2008? Click the button!

If you see an unusual bird, no fair keeping it a secret. Post your sightings on EBB, or it won't count. If you're not an EBB member, learn how by clicking the button!

Participants / Month
Jan
Feb
Mar
Apr
May
Jun
Jul
Aug
Sep
Oct
Nov
Dec
The County
201
211
230
240
271
272
275
278
289
292
294
295
Bob Dunn
171
183
210
225
242
245
249
252
260
263
264
267
Kathy Robertson
169
183
209
224
240
244
248
249
253
257
262
264
Bob Power
156
193
209
218
237
242
245
248
252
253
258
260
Bob Brandriff
159
185
205
221
230
237
240
242
248
251
255
257
Steve Huckabone
171
186
204
220
231
235
238
242
246
249
253
256
Karen Peterson
140
172
189
219
228
237
246
248
251
255
Judith Dunham
185
197
212
215
232
243
Stephanie Floyd
123
142
173
190
200
206
215
220
228
230
239
240
Bruce Mast
164
182
225
238
Pat Bacchetti
166
190
201
237
Tony Brake
92
118
147
162
168
170
176
186
192
197
204
212
Bob Lewis
136
138
142
160
167
169
175
177
187
196
201
207
George Chrisman
107
120
148
163
173
178
180