Bay Area Birds - Winter 2012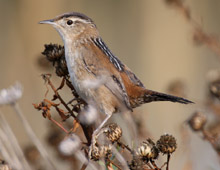 Marsh Wren - MLK Shoreline
Join us to learn about places to bird, enhance your ID skills, and enjoy being with a very fine group of fellow birders.
Field trips are either Saturday or Sunday following the class, your choice. Just don't come both days! The last field trip is weekend-long, meeting Saturday morning and running through Sunday noon.
Instructors: Rusty Scalf & Bob Lewis
Provider: Albany Adult School
Class #:
Meets: AAS, Room 210
Dates: 6 Wednesdays, 7-8:30 PM, January 11 - Feb 15
Field trip itinerary
For this class
Field trip Directions
See itinerary below for links to each destination
References
Motel Options for 2/18
We will be staying in Los Baņos. Dinner at 6 PM at Woolgrowers, 609 H Street.
Best Western Executive Inn
301 West Pacheco Blvd
209-827-0954 ($80)

Economy Inn
528 East Pacheco Blvd
209-826-0682

Americas Best Value Inn - Los Banos
330 West Pacheco Boulevard
Los Banos, CA 93635
Phone: 209 826 5002